What's That Texture???!!!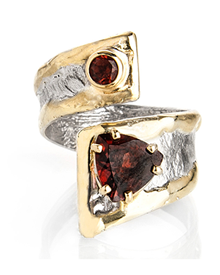 Reticulation is a torch-created texture which is achieved by repeated of heating and cooling of sterling silver sheet metal. During this process, much of the copper alloy is burned away from the surface...leaving a lower melting temperature inside the sheet. This differential allows for melting the inner layer without breaking the surface tension and thus creating amazing ripple-like textures on the surface. This is the "canvas" for both Shell-Bell silver jewelry and Fusion II by Shelli.
Shelli "Shell-Bell" Kahl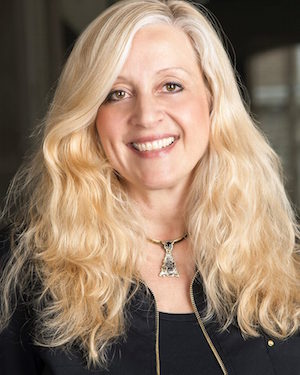 My jewelry is representative of the way I live my life…free spirited, passionate and uninhibited by the boundaries set by others. As with my life, there is an overall plan for each piece…but I'm not concerned with exact details of how to arrive at the finished product. I understand that goals can change, and I welcome the natural twists and turns that both life and my jewelry take as they arrive at the next finish line. I learned along the way that I wasn't molded in the same fashion as most and am happy to present an art form that is as non-traditional as myself. The untamable texture in my jewelry is akin to the trials and tribulations of my life…which are exactly what gives it the unmistakable personality and beauty that is truly mine.
---
Timothy and Shelli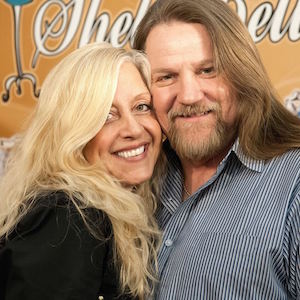 Shelli married the love of her life, Timothy Kahl, on 10/10/10 in Sedona, AZ. Though Timothy is modest about his role, he is truly the "wind beneath her wings". Shell-Bell Designs in its current state of success would not exist without him. From building her a studio in their home to driving to every show, Timothy has made it possible for Shelli to focus on her gift of making beautiful jewelry. In 2014 Timothy joined Shell-Bell Designs full time, leaving a successful 25-year career in the commercial lighting business. They purchased a 1938 log cabin style home in Big Bear, CA where they reside with their Bernese Mountain Dog "Gracie" and two cats. They travel to shows across the country, usually in their RV with the dog and cats. Shelli feels that their biggest accomplishment to date has been allowing Timothy to "quit his day job" and join in the amazing business and life that they have built together.